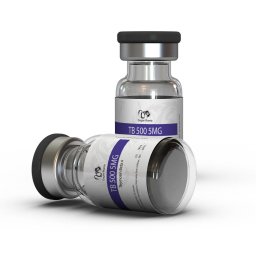 Dragon Pharma
TB 500
CHEMICAL INGREDIENT: Pentadecapeptide
ADMINISTRATION: Thymosin beta 4
BRAND: Dragon Pharma, Europe
STRENGTH: 2 mg/ml
UNIT: 1 vial 10 ml
TB 500 Detailed
Introducing Dragon Pharma TB 500 – the miracle peptide for athletes and those with chronic and acute injuries or diseases who want to recover quickly and enhance their strength, flexibility, endurance, reduce joint inflammation, and boost hair growth. This revolutionary supplement has been developed to turn back the clock on injury recovery time while helping you achieve maximum performance.
Research shows that TB-500 boasts powerful regenerative properties when it comes to bypassing months of healing from tendinitis, ligament damage, fractures, as well as heart tissue irregularities. By taking this supplement every day in conjunction with regular exercise or physiotherapy you can expect a dramatic improvement in your overall health and wellbeing.
If you're looking for ways to recover faster from injury or surgery or just wanting to feel more energized and confident about your body – TB-500 is an essential addition to your health regime. With its proven track record of healing capabilities and performance enhancing properties, it's the perfect solution for anyone with an active lifestyle who needs a little extra help along the way.
TB 500 FAQ
What is TB-500?
TB-500, also called Thymosin Beta-4, is a powerful peptide naturally present in all human and animal cells. Engagingly designed, TB-500 intends to stimulate diverse healing effects within the body.
How TB-500 works for healing and recovery?
Well, this peptide takes charge of controlling the cell-building protein, Actin. By promoting healing, producing new blood and muscle cells, and reducing inflammation in tissues, TB-500 plays a crucial role in building new blood vessels, small muscle tissue fibers, and enabling rapid repair and recovery. Talk about an engaging process!
Is safe?
TB-500 has a well-documented history of being safe and effective for various treatments. However, like any therapy, it's crucial to consider potential side effects and consult with a healthcare professional. Common side effects may include mild fatigue or head rush. Stay informed and speak to your healthcare provider for personalized advice.
How do I administer TB 500?
TB-500 is typically provided as a lyophilized (freeze-dried) powder in vials, which is then mixed with sterile water for injection either subcutaneously or intramuscularly. The injection site is not crucial and can be administered at any location on the body.
What is the Dragon Pharma TB 500 dosage?
The dosage will vary depending on the purpose of use, with higher dosing typically for acute injury and post-surgical healing compared to chronic injury and anti-aging purposes. A healthcare professional will provide precise dosing instructions, so it's best to consult them for guidance.
Where to buy TB 500?
Once you successful log in into BuyDragonPharma web site, we will send TB 500 directly to your home or office.
Please log in to write TB 500 review.