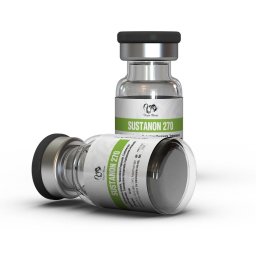 Dragon Pharma
Sustanon 270
CHEMICAL INGREDIENT: Testosterone Acetate, Testosterone Propionate, Testosterone PhenylPropionate, Testosterone Isocaproate, Testosterone Decanoate
ADMINISTRATION: Intramuscular
BRAND: Dragon Pharma, Europe
STRENGTH: 270mg/ml
UNIT: 1 vial 10 ml
You will save 11.00 USD

Sustanon 270 Detailed
This advanced testosterone blend packs a powerful punch, helping to boost the benefits of your workout and support your goals. Whether you're looking to increase strength and muscle mass or to maintain overall health, Sustanon 270 is the perfect addition to your routine.
This specially formulated blend of four esters of testosterone helps to quickly release a full dose of testosterone in your system, so you can start feeling the benefits right away.
Dragon Pharma Sustanon 270 is designed to be safe and effective for athletes at any level. Plus, its longer half-life helps maintain testosterone levels, delivering consistent performance day after day. So if you're looking for results that last, look no further than Dragon Pharma Sustanon 270. With its unique combination of ingredients, this top-notch testosterone blend is here to help you reach your peak.
SUSTANON 270 FAQ
What is Sustanon 270 by Dragon Pharma?
Sustanon 270 is an injectable mix of 5 testosterone esters. 20 mg of Testosterone Acetate, 30 mg of Testosterone Propionate, 60 mg of Testosterone PhenylPropionate, 60 mg of Testosterone Isocaproate, 100 mg of Testosterone Decanoate
How much Sustanon should I take?
Is depends for your goals but Sustanon 270 by Dragon Pharma is used at 1-2ml/week.
How often should you inject Sustanon?
In most cases it is injected once or twice per week.
Sustanon how long does stay in your system?
Since it has 5 testosterone esters with different release times it may be detected even after 3 months.
What is most popular Sustanon 270 cycle?
Sustanon vs Enanthate
Enanthate is just one type of testosterone ester and it has clear release time while sustanon is a mix of testosterone esters with different release times, it means you can inject it less often. It is hard to say which one is better, if you want to try both start with Enantat 250.
Where to buy Sustanon 270 by Dragon Pharma?
Please log in to write Sustanon 270 review.