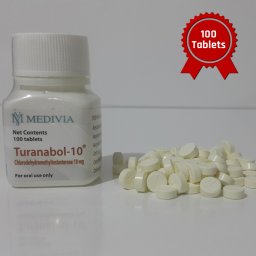 Medivia
Turanabol-10
CHEMICAL INGREDIENT: 4-Chlorodehydromethyltestosterone
ADMINISTRATION: Oral
BRAND: Medevia
STRENGTH: 10 mg/tab
UNIT: 100 tab/bottle
Turanabol-10 Detailed
Turanabol-10 is an oral steroid that contains 20 mg of the hormone Chlorodehydromethyltestosterone. It has a predominantly anabolic effect combined with a relatively low androgenic component. On a scale of 1 to 100, the androgenic effect is very low, scoring only 6, while the anabolic effect is 53. In comparison, Methandienone has an androgenic effect of 45 and an anabolic effect of 90. Turanabol is commonly recommended for wasting diseases and HIV symptoms since it does not aromatize.
Turanabol has a lower effect than Dianabol. Therefore, it is not a steroid that causes rapid gain in strength, weight, or muscle mass. Instead, the achievable results primarily manifest as solid muscle gain and, when taken over several weeks, a good strength gain. Unlike testosterone, Dianabol, Turanabol does not lead to a puffy look. The maximum blood concentration of Turanabol-10 when taking doses of 10, 20, or 40 mg/day is 1.5-3.5 or 4.5 times the endogenous testosterone concentration. This clearly demonstrates that the effectiveness of this compound strongly depends on the dosage.
Turanabol-10 is suitable for both men and women in competitions due to its characteristics. A highly effective stack for male bodybuilders typically includes 50 mg of Turanabol per day, 228 mg of Parabolan per week, and 150 mg of Winstrol Depot per week. Those who have reduced their body fat content through dieting and/or the use of fat-burning substances (such as Clenbuterol, Salbutamol) will find that the aforementioned steroid combination results in hard, sharply-defined muscles that are still dense and full. There is no risk of enlarged breasts, estrogen surplus, or a watery, puffy-looking muscle system.
Turanabol is a popular steroid known for its quick breakdown by the body and relatively rapid excretion of metabolites through urine. However, determining the specific duration for "clean" test results is challenging. Athletes who solely use Turanabol as a steroid, taking doses of 10-20 mg/day, have reported testing negative after discontinuing the compound five days before a doping test.
The potential side effects of Turanabol depend on the dosage and gender. In women, virilization symptoms may occur, particularly with doses exceeding 20 mg/day over an extended period. Men may experience reduced testosterone production. Gynecomastia is rare with Turanabol, as athletes rarely report water retention and high blood pressure.
Acne, gastrointestinal pain, and uncontrolled aggressive behavior are infrequent side effects of Turanabol. Conversely, increased libido is commonly reported by both sexes. Due to 17-alpha alkylation, regular liver function check-ups are recommended when taking this substance, as high dosages may negatively impact the liver and potentially cause damage. Turanabol can be used continuously for extended periods. Studies of male athletes using 10 mg Turanabol/day for six weeks showed no significant adverse effects.
Please log in to write Turanabol-10 review.