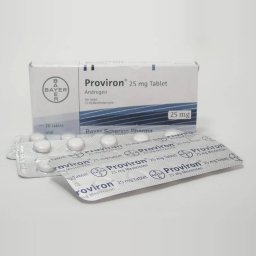 Bayer Schering
Proviron 25 mg
CHEMICAL INGREDIENT: Mesterolone
ADMINISTRATION: Oral
BRAND: Bayer Schering
STRENGTH: 25mg
UNIT: 20 tabs
Proviron 25 mg Detailed
25 mg Proviron by Bayer Schering is a synthetic androgen that has no anabolic characteristics containing 25 mg of the hormone Mesterolone per tablet.
Proviron, as it is also called, has become a very popular substance among bodybuilders for several different reasons. While this steroid is not very anabolic, it is highly androgenic. Because of this, Bayer Proviron is capable of giving the muscles a harder, more defined look. Proviron 25mg is also a noted estrogen blocker. It can be used in conjunction with steroids that aromatize in order to help prevent estrogen related side effects.
Another positive effect of Bayer Proviron 25 mg is that it greatly reduces SHBG in the body. This frees up other hormones being used and makes them much more effective. Its high androgenic properties make it a very good substance for maintaining or retaining ones sex drive. This also makes the drug a very good choice to add into one's PCT program. Here, Proviron will aid in keeping androgen levels high while allowing the body's own natural testosterone production to come back.
Even though it's an oral, Proviron 25 mg is considered to be very mild on the liver, and thus, liver damage is not a concern while using this substance. Bodybuilders often incorporate this drug into all of their cycles, and also into their PCT programs. When stacked with testosterone like Sustanon 270 or Cypionat, it will aid in blocking estrogen while increasing androgen, and also allowing the testosterone to be more abundant in the body. With this wide range of benefits associated with its addition to the cycle, it's no wonder that this drug has gained so much popularity.
Proviron 25 FAQ
What is Proviron 25mg used for?
Proviron is used in cutting cycles because it will bring hardening effects, enhance the total free state of the other steroids being used in a steroids cycle and will bind to the androgen receptor which increases fat burn rate.
Proviron Dosage for PCT
Proviron is not used for PCT. For PCT we use Clomid or Nolva or both.
How long does Proviron take to work
It starts working immediately as you take it but you will see results over time.
Proviron 25 mg benefits
As mentioned above Proviron will bring hardening effect & enhance free testosterone and other steroids.
Proviron and Testosterone cycle
WEEKS
1-10 Testosterone Enanthate 2ml/week
4-10 Proviron 50mg/day
PCT with Clomid.
Proviron and Sustanon 250
WEEKS
1-10 Sustanon 500mg/week or 2ml/week
4-10 Proviron 50mg/day
PCT with Clomid.
Where to Buy Proviron 25 mg Bayer?
At BuyDragonPharma.Com. We sell genuine Bayer products. You can test them in a lab. If you are still thinking place a small test order.
Please log in to write Proviron 25 mg review.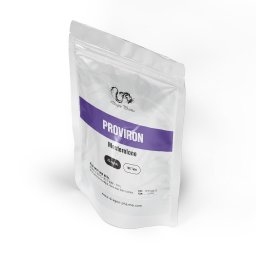 100 tabs - 25 mg/tab
CHEMICAL INGREDIENT: Mesterolone
ADMINISTRATION: Only Oral
BRAND: Dragon Pharma, Europe
STRENGTH: 25mg/pill
UNIT: 1 pack 100 pills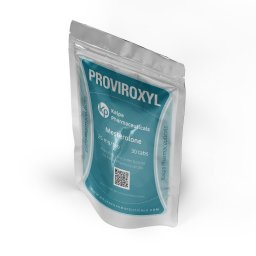 30 tabs - 25 mg/tab
CHEMICAL INGREDIENT: Mesterolone
ADMINISTRATION: Oral
BRAND: Kalpa Pharmaceuticals
STRENGTH: 25mg/pill
UNIT: 1 pack 30 pills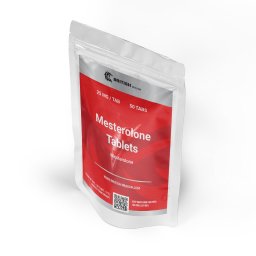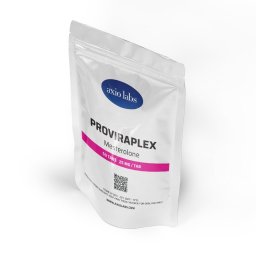 50 tabs - 25 mg/tab
CHEMICAL INGREDIENT: Mesterolone
ADMINISTRATION: Oral
BRAND: Axiolabs
STRENGTH: 25mg/pill
UNIT: 1 pack 50 pills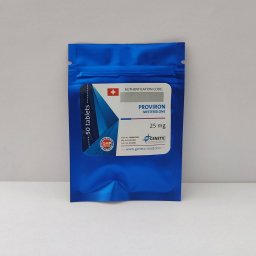 50 tabs - 25 mg/tab
CHEMICAL INGREDIENT: Mesterolone
ADMINISTRATION: Only Oral
BRAND: Genetic Pharmaceuticals
STRENGTH: 25mg/pill
UNIT: 1 pack 50 pills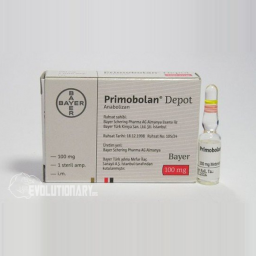 5 amps - 100 mg/ml
CHEMICAL INGREDIENT: Methenolone Enanthate
ADMINISTRATION: inject
BRAND: Bayer Schering
STRENGTH: 100 mg
UNIT: 5 amps (1 ml per amp) 100 mg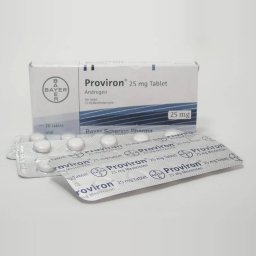 20 tabs - 25 mg/tab
CHEMICAL INGREDIENT: Mesterolone
ADMINISTRATION: Oral
BRAND: Bayer Schering
STRENGTH: 25mg
UNIT: 20 tabs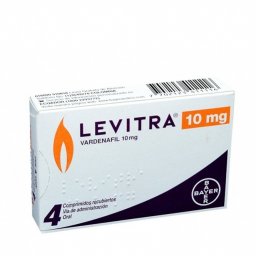 4 tabs - 10 mg/tab
CHEMICAL INGREDIENT: Vardenafil
ADMINISTRATION: Oral
BRAND: Bayer Schering
STRENGTH: 10 mg
UNIT: 4 tabs